News
Representatives from the National Commissions of Korea , Japan and Thailand for UNESCO Visit HIST
Date:2011-08-25
On 24 August, 2011, representatives from the National Commissions of Korea, Japan and Thailand for UNESCO paid a visit to the International Centre on Space Technologies for Natural and Cultural Heritage (HIST) under the Auspices of UNESCO, which is located in the premises of AIR. Ms. Guo Wei from the National Commission of China for UNESCO accompanied the guests.
Having been shown around the lobby of AIR's building, the guests watched a 3D demonstration video named "Space Observation and Understanding of World Heritage" and visited the international organizations located in AIR. Later on, the visitors listened with great interest to the introduction of HIST's supporting institution-AIR, establishing background, general objectives and research work, and expressed their congratulations to the successful establishment of HIST. They paid great tribute to HIST for the work that has been accomplished and highly commended the scientific capability of HIST's supporting institution. The both sides also exchanged views on the possibility of future cooperation in terms of capacity building of science and technology for the Asian member states of UNESCO.
This is the annual visit by the National Commissions of China, Japan, Korea and Thailand for UNESCO for the purpose of understanding and learning from each other, and the visit to HIST is one part of their activities in China. HIST, which has been considered by the National Commission of China for UNESCO as the representative of the Category-II Centers in China under the auspices of UNESCO, will expect more visit in the future from UNESCO headquarters and its member states from all around the world.
Visiting the hall in the first floor of AIR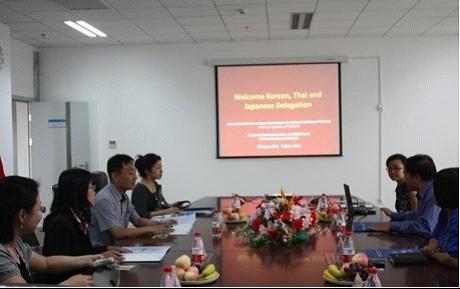 On site of the meeting