News
Iraq and UNESCO Join Forces to Safeguard Cultural Heritage in Iraq
Source:ODG   Date:2013-05-27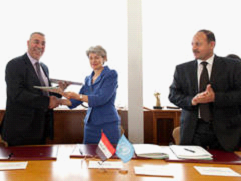 On 27 May, UNESCO Director-General, Mrs. Irina Bokova, and the Minister of Sunni Endowment of Iraq, Mr. Ahmed Abdul Ghafoor Al-Samarai, together with the Governorate of Salah Al Din, represented by the Head of the Samarra Old City Committee, Mr. Omar Mohammed Hassan, signed three agreements for the preservation of the cultural heritage of Iraq.
The agreements for a total amount of some USD 3,400,000 million seek to ensure the long-term conservation and sustainability of architectural heritage in the iconic city of Samarra.
"We are committed to conserving cultural heritage in Iraq," said the Director-General. "This goes beyond physical restoration of cultural buildings, Mosques -- it is also about cultural identity, social cohesion and dialogue between different communities".
The Minister stressed the importance of Iraqi unity and dialogue between different religious communities. "I am committed to enhancing a continuous dialogue with all religious communities in Iraq as I consider that dialogue lies at the core of human interaction, without distinction of religion. This is very crucial," underlined the Minister.
The agreements seek to provide an overall framework for mutual cooperation as well as a management plan for the conservation of the Samarra historic urban centre, which include developing the infrastructure and services in the city.
"We wish to thank you on behalf of the Governorate of Salah Al Din and the people of Samarra for this cooperation", stated Omar Mohammed Hassan.
Iraq is among the major donors to UNESCO, providing important extrabudgetary contributions for self-benefiting projects, especially in the area of cultural heritage.