News
Representatives of UNESCO and IUCN visit HIST
Date:2013-09-18
On September 18th, 2013, Mr. R. Jayakuma of UNESCO Bangkok Office, Mr William Logan, Deputy Director of the International Center for Integrated Water Resources Management(ICIWaRM) under the auspices of UNESCO and Mr Shi Yichuan, a remote sensing expert of the International Union for Conservation of Nature and Natural Resources(IUCN) paid a visit to the International Centre on Space Technologies for Natural and Cultural Heritage under the Auspices of UNESCO(HIST) which was built on the premise of The Aerospace Information Research Institute (AIR) of the Chinese Academy of Sciences.
After watching the 3D demonstration video named "Space Observation and Understanding of World Heritage", the guests visited the satellite ground control hall to see the operation and control system of AIR's ground station network, and then had a talk with the staff of HIST. Mr Hong Tianhua, Deputy Director and Secretary-General of HIST, gave a brief introduction to the application of space technologies on the conservation of UNESCO-Inscribed sites, and the background, general objectives and operation of HIST. Mr. Logan made a presentation on the operation mechanism, main focus and recent work of ICIWaRM. Mr. Shi also made a presentation on the work that has been done by IUCN on the use of space technologies for nomination of new natural world heritage sites, and for conservation of current natural world heritage sites.
The guests paid great tribute to HIST for the work that has been accomplished and they exchanged views on the possibility of future cooperation with HIST.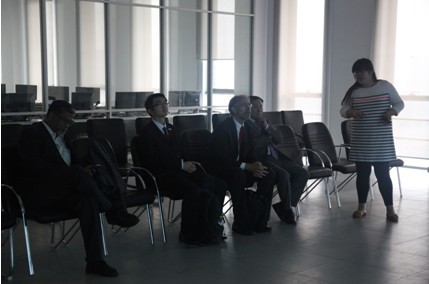 Visit the Satellite Ground Control Hall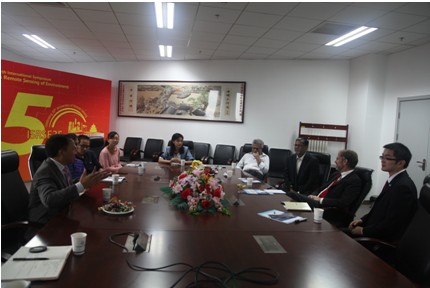 Discussion between the Visitors and HIST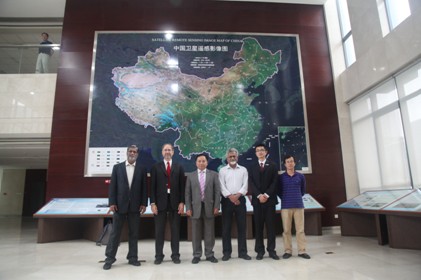 Group Photo