News
Audrey Azoulay, first UNESCO Director-General to be received by the Chinese President
Date:2018-07-17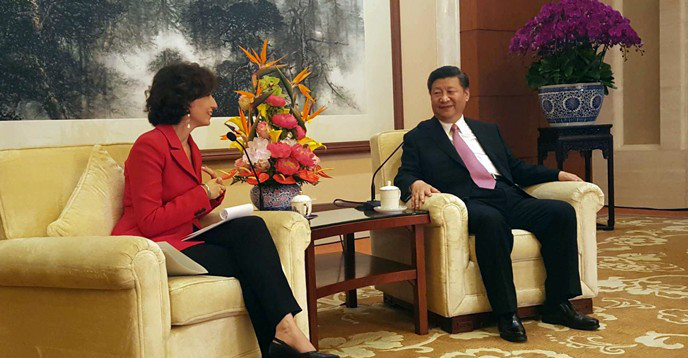 On Monday, Audrey Azoulay began her first official visit to China as Director-General of UNESCO with a historic meeting with the President Xi Jinping.
It is the first time a Chinese President has ever received a UNESCO Director-General. This follows a watershed moment for China-UNESCO relations when President Xi visited UNESCO Headquarters in 2014, his first visit to a UN Organization.
For the Director-General, this visit marks "the beginning of a new era for the strategic partnership between China and UNESCO". She stressed her conviction that "multilateralism is more important than ever for responding to contemporary challenges" and hailed "China's remarkable commitment within the multilateral system."
Audrey Azoulay also highlighted "the modernity of UNESCO's mission to build a more human future through education, culture and the sciences."
During the meeting, they discussed opportunities for strengthening the strategic partnership between China and UNESCO in education, emphasizing Africa and the promotion of girls' and women education – the two global priorities of UNESCO ; in culture: the Director-General underscored the importance of Chinese cultural Heritage (China is second country in the World Heritage ranking); and on artificial intelligence: she will visit the Artificial Intelligence Institute of Tsinghua University.
She continued her visit with a dinner on Monday with the First Lady, Peng Liyuan, UNESCO Special Envoy for Girls' and Women's Education. The Director-General wishes to express her gratitude for the First Lady's commitment as "girls' and women's education is an important driver for inclusive and sustainable development".