News
HIST Nanchang Base was Established
Date:2019-11-18
On March 25, 2019, HIST inaugurated its Nanchang base. The opening ceremony was held at the Yaohu Campus of Jiangxi Normal University. Zhu Hong, Deputy Party Secretary and Deputy Director of the Standing Committee of Jiangxi Provincial People's Congress, Prof. GUO Huadong, Academician of the Chinese Academy of Sciences and Director of HIST, Lin Hui, Academician of International Eurasian Academy of Sciences and chief scientist of Jiangxi Normal University, attended the ceremony. The ceremony was also attended by more than 100 experts and scholars from HIST headquarters in Beijing, HIST bases in Zhengzhou, Harbin, Hengyang , Tsinghua University, Tongji University, Sun Yat-sen University, Fuzhou University, Jiangxi Provincial Institute of Cultural Relics and Archaeology, Jiangxi Province Forestry Survey Planning Institute and other units.
The ceremony was moderated by Tu Zongcai, Vice President of Jiangxi Normal University. Tian Yanguang, Party Secretary of Jiangxi Normal University, in his welcome address said that Jiangxi Normal University is highly committed to support the construction of Nanchang base, and would focus on the development goals and tasks of Nanchang base, by integrating superior resources, innovate work measures, deepen exchanges and cooperation to adhere to the principle idea "based on Jiangxi, radiating east China and facing the whole country". He also committed to work hard to contribute to the protection and utilization of the world natural and cultural heritage.
HONG Tianhua, Executive Deputy Director and Secretary-General of HIST, read the formal official agreement of establishing the Nanchang base and the letter of appointment of Prof. LIN Hui as Director. The agreement was then formally signed by Guo Huadong and President Mei Guoping of Jiangxi Normal University on the establishment of HIST Nanchang base, followed by unveiling of a commemorative plaque by Zhu Hong, Guo Huadong, Hu Zhenpeng, Tian Yanguang and other leaders jointly.
During the meeting, Director Guo welcomed the participants and congratulated all on the establishment of Nanchang base. He expressed hope that HIST Nanchang will build on its advantages, and make full use of space technology, strengthening the scientific research and protective measures for natural and cultural heritage, contributing to the future development of HIST, and promote the vigorous development of the world natural and cultural heritage.
HIST Nanchang base also held an academic forum themed the protection of natural and cultural heritage. The participating experts made high-level academic reports on geography research and cultural heritage protection research.
HIST is hosted by the Institute of Remote Sensing and Digital Earth (RADI) of the Chinese Academy of Sciences. Nanchang base is the 4th base in China after Zhengzhou, Harbin and Hengyang bases. It will adhere to the concept of "Study the Reservation and Utilization of Directory Heritage Based on Natural Heritage and Supported by Spatial Information Technology" to contribute to the sustainable development of UNESCO world heritage.
The Jiangxi Provincial People's Government and Jiangxi Normal University proposed to equip this base with 30 stuff and an independent building.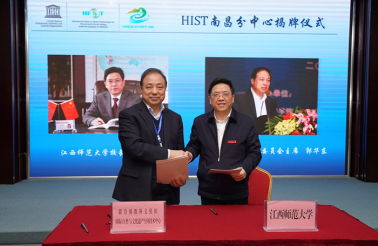 Signing the agreement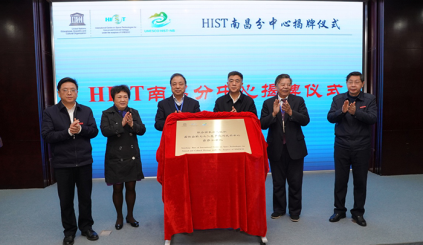 Unveiling of a commemorative plaque

A view of the ceremony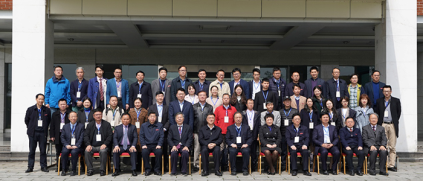 A group photo
A view of the forum