News
Early notification of collapse of House of Wonders in Zanzibar
Date:2021-01-11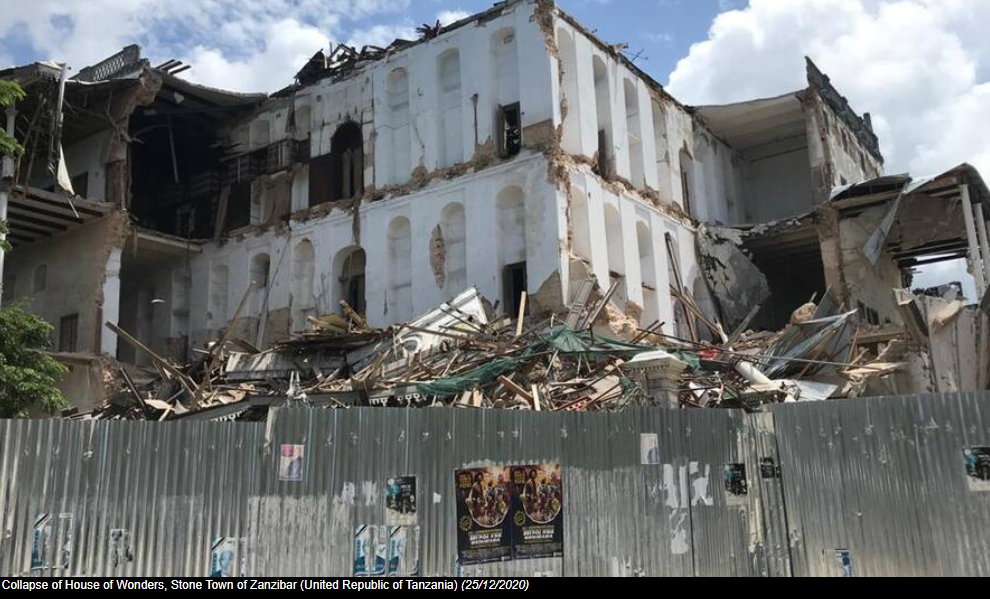 Collapse of House of Wonders, Stone Town of Zanzibar (United Republic of Tanzania) (25/12/2020)
Following news of the collapse of a part of the House of Wonders (Beit-al-Ajaib) in Stone Town, Zanzibar on 25 December 2020, the Director of the UNESCO World Heritage Centre, Ms Mechtild Rössler joins the people of Zanzibar, and the United Republic of Tanzania in general to mourn this sudden and significant loss.
The House of Wonders is one of the outstanding monuments in the Stone Town of Zanzibar (United Republic of Tanzania), a property inscribed on the World Heritage List since 2000. A section of the House of Wonders that collapsed was undergoing renovations.
"We are in contact with the Stone Town Conservation and Development Authority (STCDA) which is currently carrying rescue operation and will soon be starting a preliminary assessment of the damage caused by the collapse," said Ms Mechtild Rössler. "We have confidence that the authorities will carry out the necessary emergency actions and assessments to understand the causes of this damage and propose solutions for the safeguarding of this monument which is an essential component contributing to the Outstanding Universal Value of the site. UNESCO stands ready to support the ongoing efforts and we are with the United Republic of Tanzania in facing this disaster. "
The Stone Town of Zanzibar is an outstanding example of the Swahili coastal trading towns of East Africa. Developed in the coast of East Africa, Stone Town manifests cultural fusion and harmonization of the disparate elements of Africa's culture, the Arab region, India, and Europe over more than a millennium. The House of Wonder, a large ceremonial palace built by Sultan Barghash, is one of the town's landmarks among other major buildings that date from the 18th and 19th centuries.