News
Online Webinar on Earth Observation and Data Science for Cultural Heritage
Date:2022-01-22
On December 15-16, the International Webinsar "Earth Observation and Data Science for Cultural Heritage", co-hosted by International Centre on Space Technologies for Natural and Cultural Heritage under the auspices of UNESCO (HIST), DBAR-Heritage ICoe-Potenza, Harokopio University of Athens, was held online. More than 10 experts from 8 international research institutions and universities shared their presentations in the field of space technologies for cultural heritage. The webinar also featured 3 sub-sessions organized by HIST' bases and workstations which received more than 100 online and offline participants totally.
On December 15, five presentations, including "Remote Sensing for Cultural Heritage" (Prof. Fulong Chen, HIST), "Spaceborne SAR interferometry as a noninvasive tool to assess the vulnerability over cultural heritage sites (SCIENCE project)" (Ms. Athanasia-Maria Tompolidi, Harokopio University of Athens), "EO data integration for Archaeological investigations: Nasca lines and Machu Picchu case studies" (Prof. Nicola Masini, ISPC-CNR), "Satellite SAR applications in Cultural Heritage" (Dr. Chris Stewart, ECMWF) and "Close range EO for Natural and Cultural heritage" (Dr. Abate Nicodemo and Valentino Vitale, Universita' degli Studi della Basilicata), were given sequently.
On December 16, another five presentations were demonstrated, they are: "Towards a New Structure of Historic Cities Network in China" (Prof. Wei Dong, Southeast University, China), "Artificial Intelligence and Earth observation for heritage preservation" (Prof. Rosa Lasaponara, IMAA-CNR), "Application of Nondestructive Testing to Heritage Architecture-take ancient pagodas as an example" (Dr. Chenghe Hu, MCC Construction Research Institute Co., Ltd.), "The Restoration Work of the Acropolis Monuments- The Problems and their Treatment" (Dr. Vasiliki Eleftheriou, the Acropolis Restoration Service, Hellenic Ministry of Culture and Sports) and "ESA open data and facilities for CH" (Dr. Jolanda Patruno, ESA).
During the academic exchange session, the participating experts discussed scientific issues relevant to cultural heritage safeguarding and conservation by exploiting the performance of remote sensing toolsand taking advantage of the development of Information and Communications Technologies (ICTs).
In recent years, HIST has carried out fruitful cooperation with the Italian National Science Council and Harokopio University of Athens under the cooperation agreements between China and Italy, and between China and Greece. HIST has developed a series of effective methods and models in space archaeology and remote sensing monitoring tools for the sustainable assessment of heritage sites. HIST also fostered an international team with interdisciplinary expertise to support the safeguarding and conservation of world heritage sites across the world.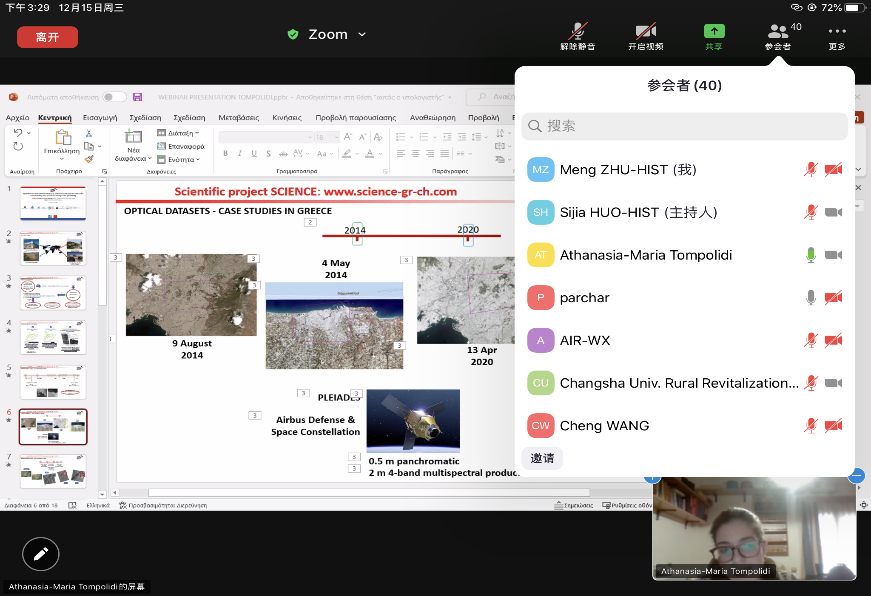 The webinar
Sub-sessions held in HIST's bases and workstations